Welcome to Style Diaries, a new series where we research the physical manifestations of our closet tours IRL. We're asking friends and tastemakers to show us what they're *actually* wearing during the week and to provide a little insight into their thoughts on the current state of fashion. This week we are speaking with digital content creator Brittany Xavier. In her third trimester of pregnancy, Xavier is leaning into chic dresses (with a lot of stretch), oversized menswear in lieu of maternity wear, and pops of neon to contrast her neutral separates.
What does your style *actually* look like right now?
"Pre-pregnancy, I would gravitate towards trousers and pants, but now that I'm in my third trimester and it's very hot in L.A. right now, I've been opting for comfortable dresses. I go between stretchy styles and loose, flowy options but paired with chic tailoring."
"This look is one of my go-tos, especially when I'm running errands or have a doctor's appointment. The dress is beyond comfortable and the material is perfect for a hot summer day—great coverage but still lightweight enough. I've also been wearing these slides nonstop—especially since leaning over to tie any laces is getting more and more difficult as I near the end of my pregnancy."
Shop the Look:
Do you have a go-to outfit formula, or do you prefer to switch it up when getting dressed?
"Usually, I always opt for three pieces when choosing what to wear in the morning. I get cold easily, so I like to have a jacket or blazer handy just in case. Again, because of the pregnancy, I feel a bit more limited to comfortable clothing styles, but I like to play with my accessories to make sure my outfit feels fresh each day."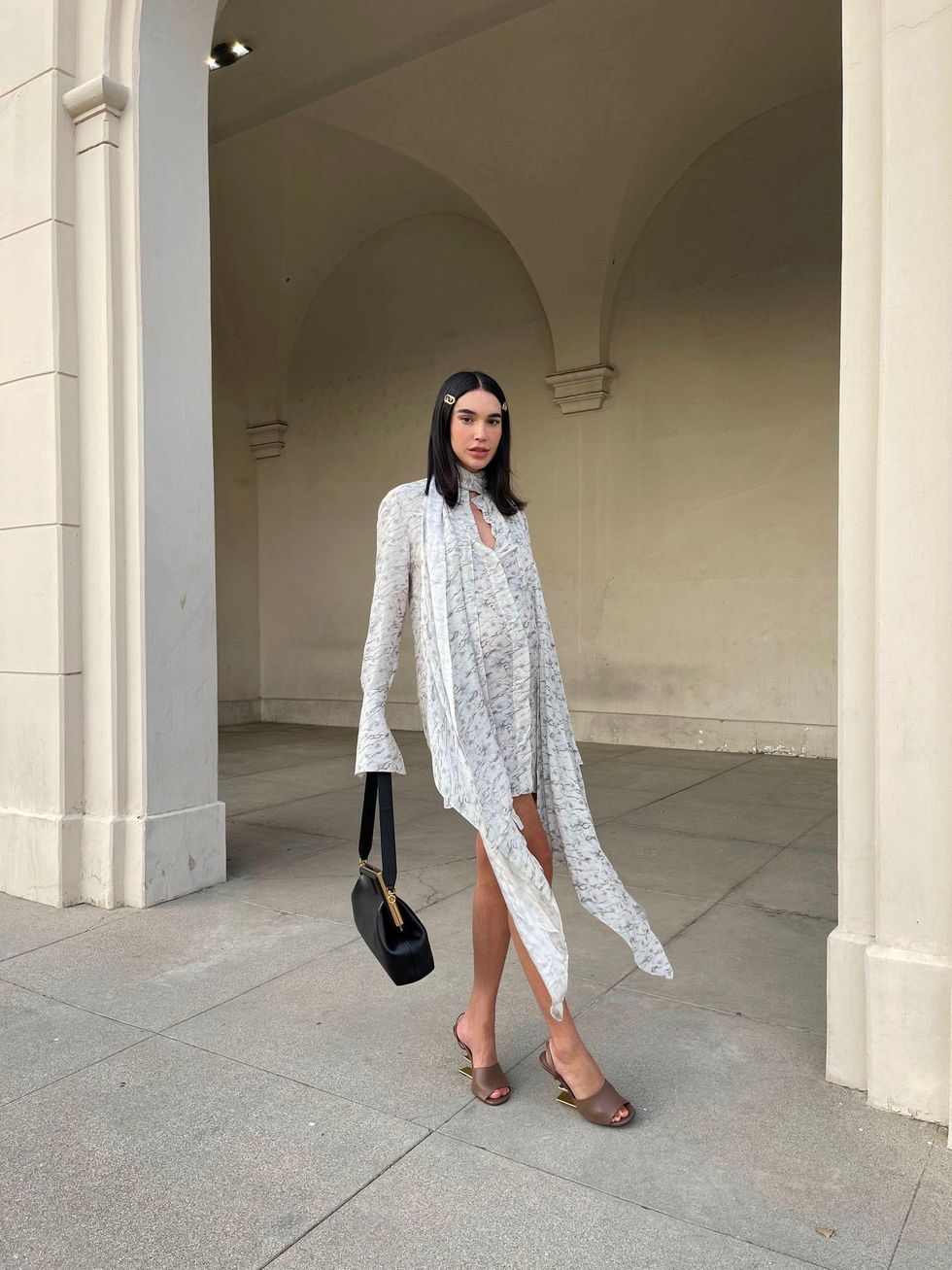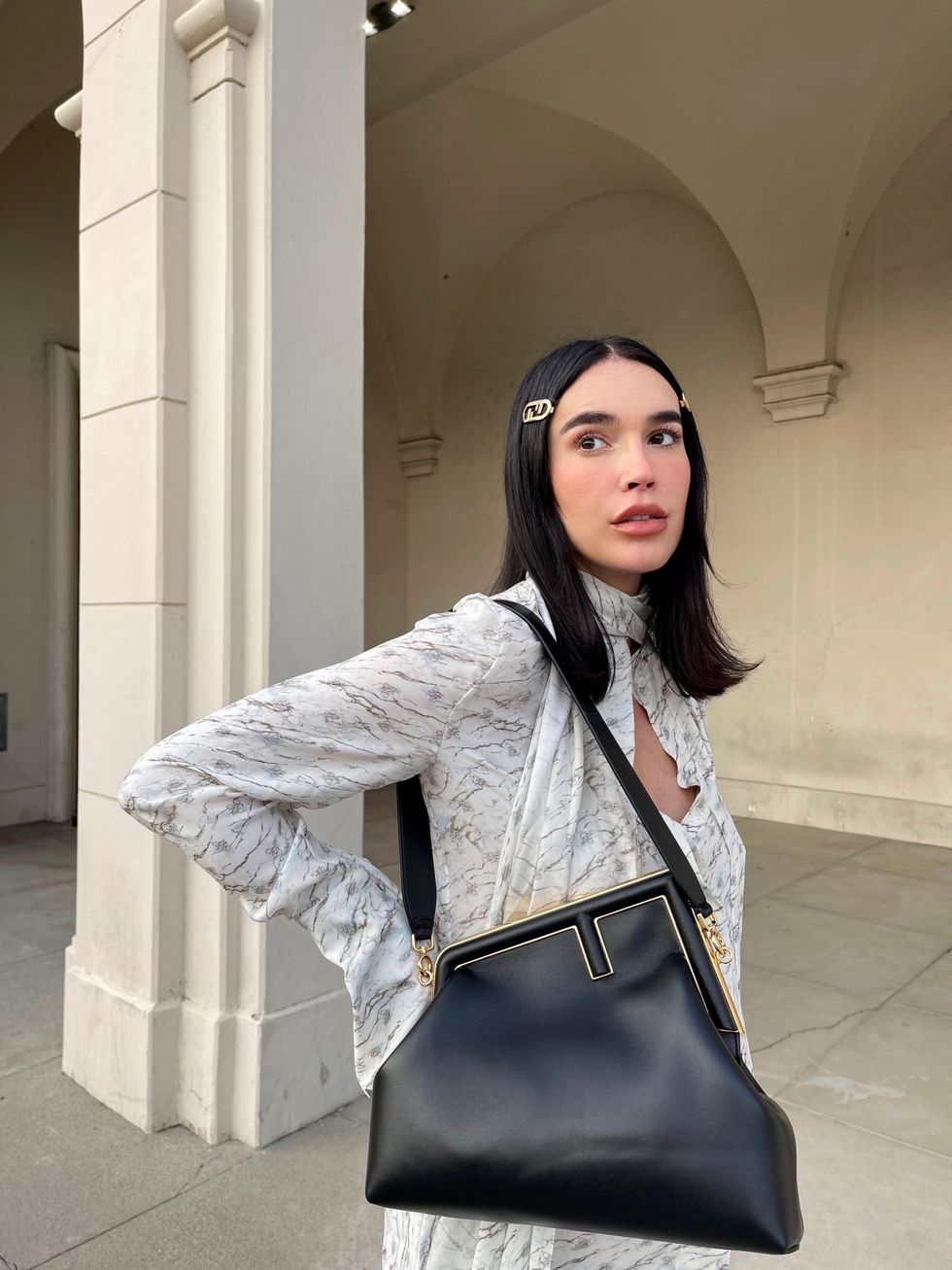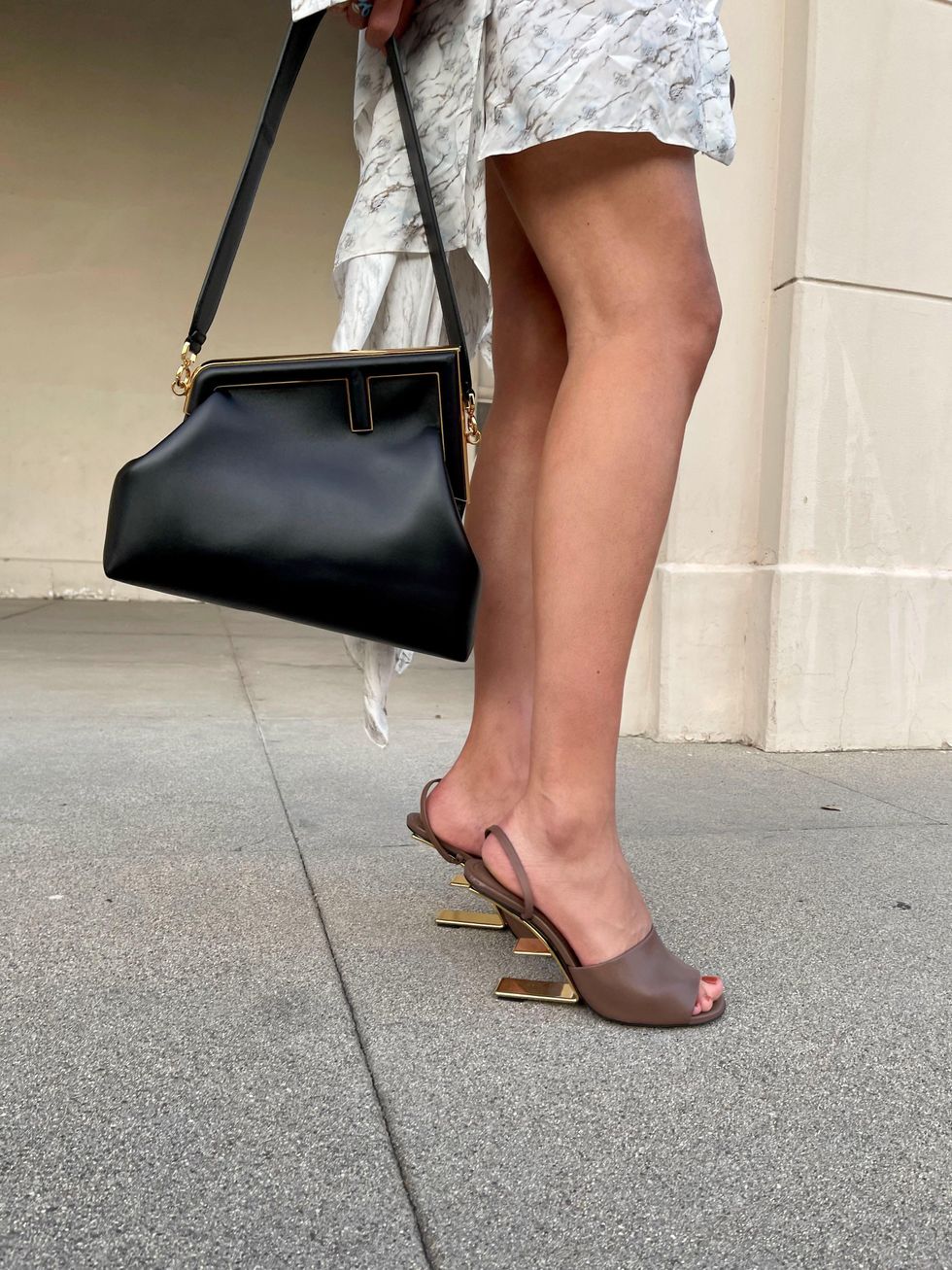 "I recently wore this look on a date night with my husband. I loved how feminine and strong it made me feel with the extra-long sleeve length and how it fell perfectly around my bump (even though it's not a maternity dress). So much of my body is changing during pregnancy, and I love to feel like myself while still wearing something chic and comfortable. I look forward to getting ready for myself, but also dressing up to spend time with my husband, especially because we know our schedules will be so different once the baby is here. I've been really enjoying these last weeks of us having that couple time together and felt that my outfit conveyed that, as well."
Shop the Look:
What energy are you bringing to your ensembles this summer? What are you looking forward to wearing?
"I'm channeling all my '90s energy into my outfits, which works well for pregnancy because flatforms and simple square-neck dresses have been my go-to. Luckily, because it's back in style for retailers, these items have been easier for me to come across. I feel fortunate to be pregnant at a time when so many styles of clothing are available that I never felt the need to buy true maternity clothes—I've been able to size up and still make the outfit bump-friendly, which has allowed me to be more creative with my pregnancy style. I'm especially into bright colors and neons this summer."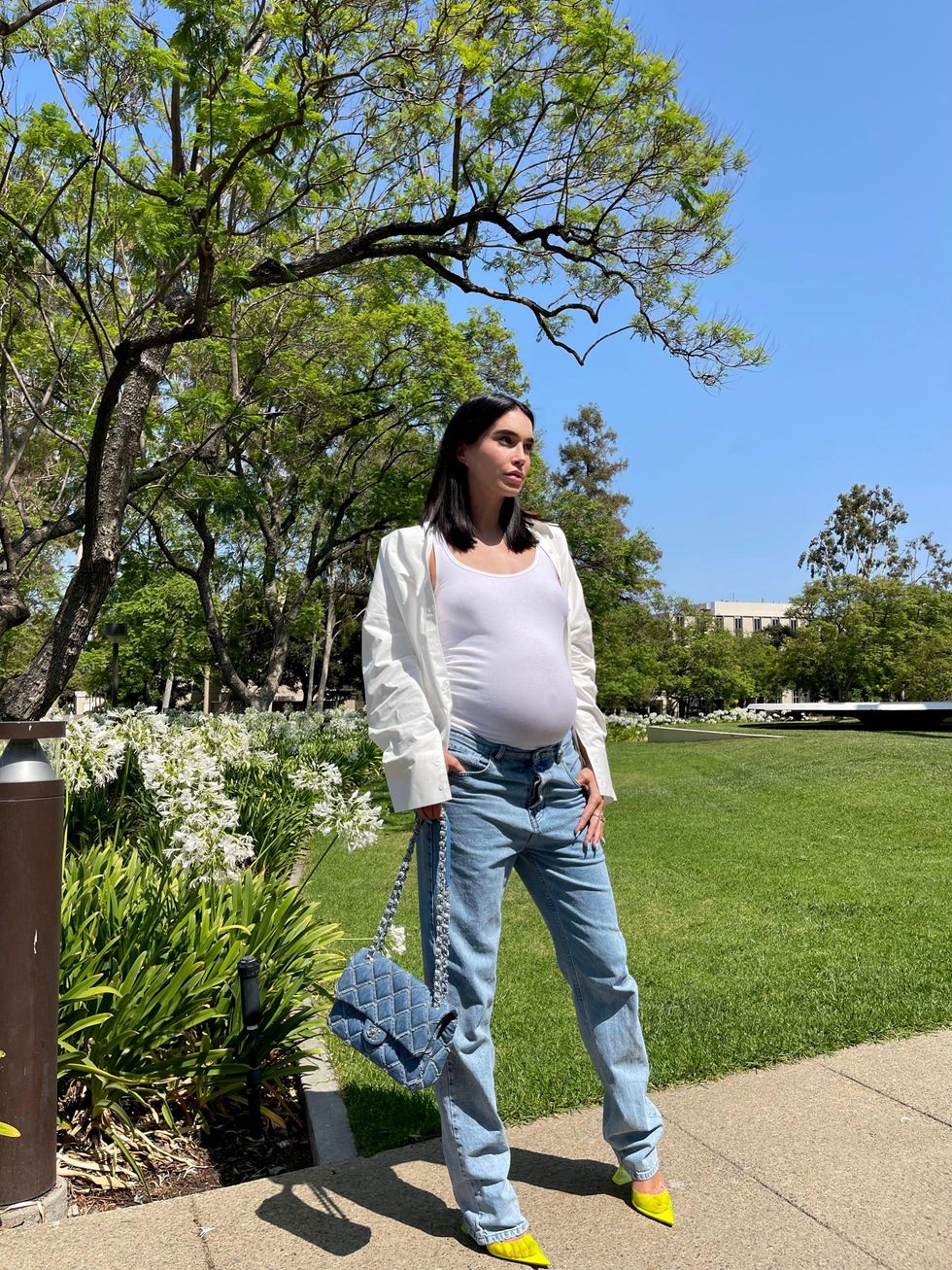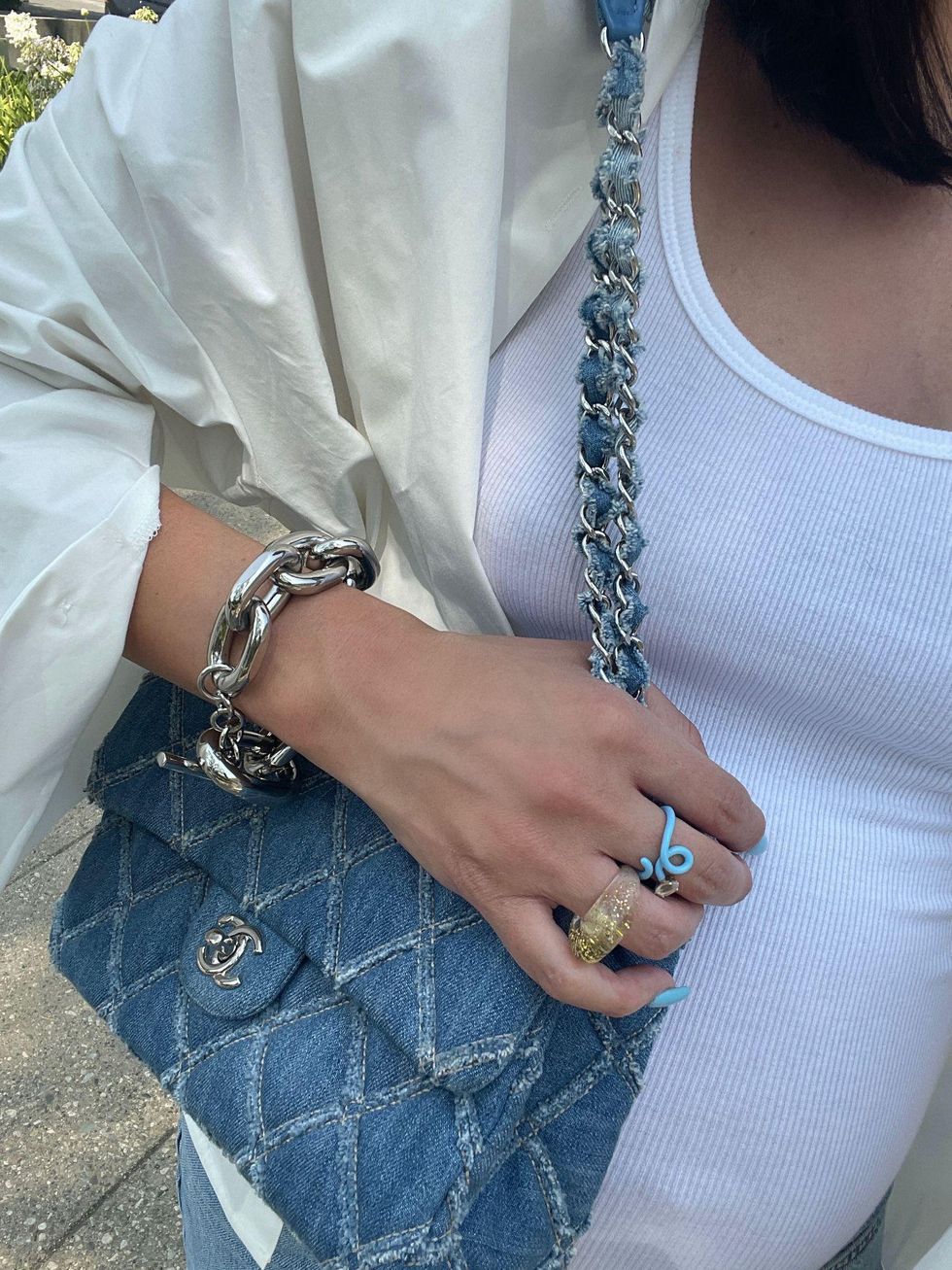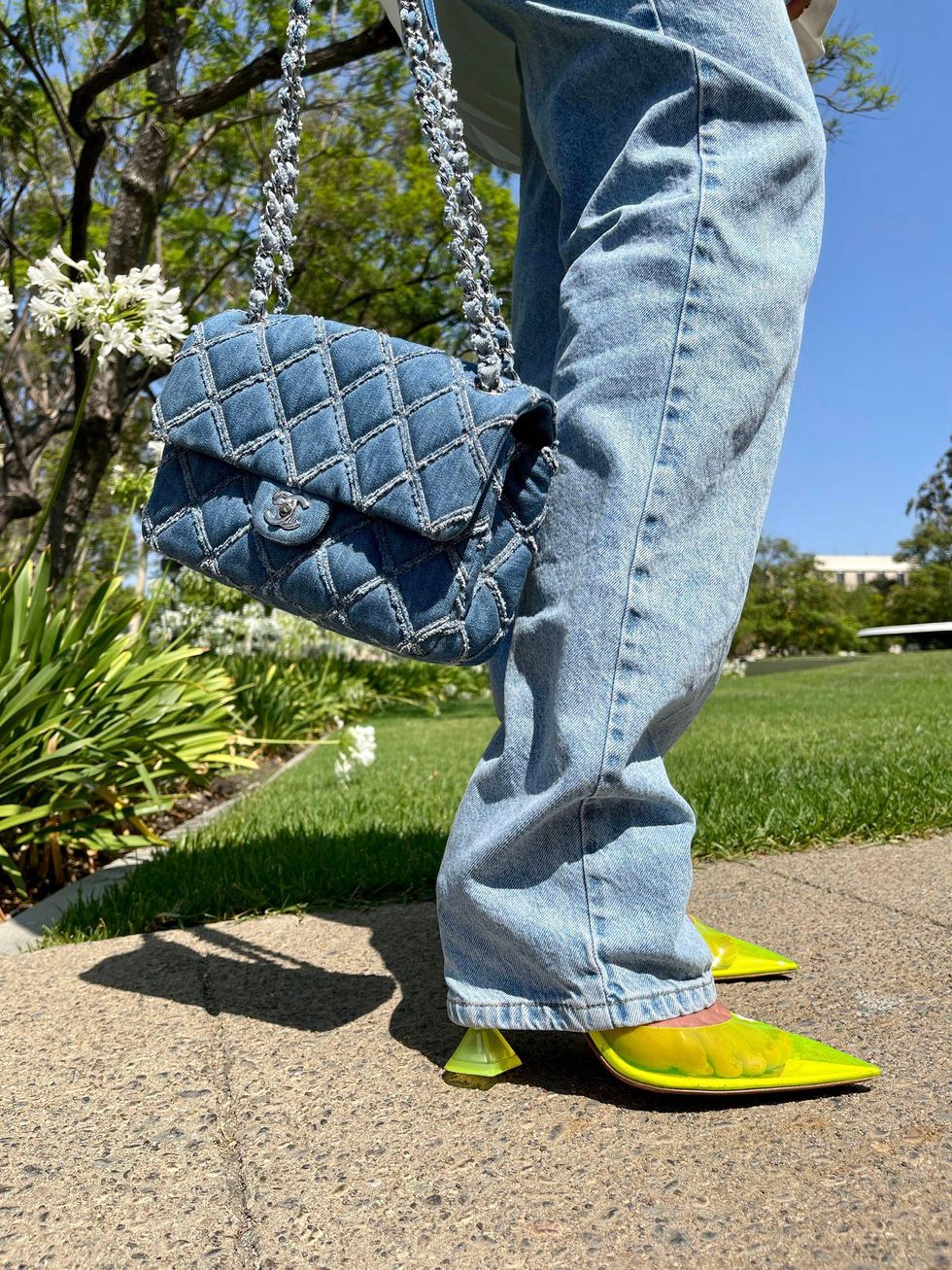 "This look I wore recently to a lunch meeting, and it's actually almost all from my husband's closet. I've always loved wearing his clothes—his t-shirts and shirts are always so soft. Men's jeans have been amazing during my pregnancy, especially when looking for a loose-fitting pair. The rise fits perfectly under my bump. I dressed this casual look up with a few of my favorite accessories, including PVC neon heels."
Shop the Look:
window.REBELMOUSE_ACTIVE_TASKS_QUEUE.push(function()
window.REBELMOUSE_STDLIB.loadExternalScript("https://htlbid.com/v3/coveteur.com/htlbid.js", function()
);
);
window.REBELMOUSE_ACTIVE_TASKS_QUEUE.push(function()
!function(f,b,e,v,n,t,s)if(f.fbq)return;n=f.fbq=function()n.callMethod?n.callMethod.apply(n,arguments):n.queue.push(arguments);if(!f._fbq)f._fbq=n;n.push=n;n.loaded=!0;n.version='2.0';n.queue=[];t=b.createElement(e);t.async=!0;t.src=v;s=b.getElementsByTagName(e)[0];s.parentNode.insertBefore(t,s)(window, document,'script','https://connect.facebook.net/en_US/fbevents.js');fbq('init', '1248680838922690');fbq('track', 'PageView');
);