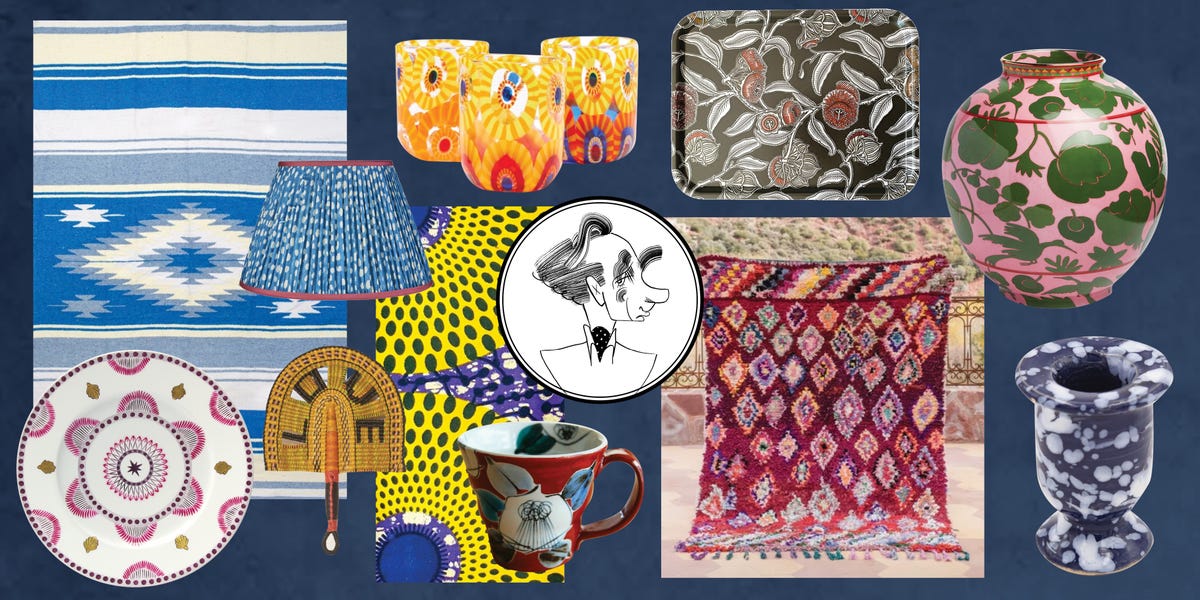 Itching to Travel? Shop These Beautiful Home Items From Around the Globe, Sourced by Style Director Robert Rufino
There's nothing more exciting than finding a unique piece of art or decor while traveling—plus,
There's nothing more exciting than finding a unique piece of art or decor while traveling—plus, (responsibly) incorporating treasures from the world is a great way to achieve a unique interior. While we're still pining for the days when we can travel freely, House Beautiful Style Director Robert Rufino has pulled together a list of beautifully crafted products from all over the world. Each textile, cup, and basket is hand-crafted, often using techniques native to its respective country. And, thanks to the internet, you can shop these treasures right from the comfort of your home. Follow along for a virtual grand tour, and get your carts ready—no passport required.
AGRA Buffet Plate
pintoparis.com
This plate is handcrafted in Limoges, a French city known for its porcelain craftsmanship. The vibrant, graphic pattern will add a punch to your tabletop. 
Youngiana Chocolate Large Rectangle Tray
A striking pattern portrays the native eucalyptus foliage and landscape from Australia, where this tray was crafted. It will be an inviting and stylish item when offering goodies to your guests.  
Tierra Upcycled Blanket – Nube
Nipomo
madetrade.com
$86.00
This blue and white colorway is inspired by Nube, the Spanish word for cloud. Handwoven in Mexico using upcycled yarn, this blanket will be perfect to cozy up to by a summer campfire. It also comes with a handmade leather strap, so you can bring it with you wherever you'd like!  
Camellia Kutani Mug
Kokuzou Kiln
manekineko-ai.com
$100.00
Based at the foot of the Kokuzoyama mountain in Japan, Kokuzou Kiln uses the traditional Kutani technique—a unique glazing method—to create ceramic goods with a modern twist. This handpainted mug is quite poetic in the freehand nature of its design.
Terracotta Vessel with Studs
These terracotta vessels are unique with their own history. This vase in particular comes from a hacienda, or a Spanish estate, in the region of Jalisco, Mexico. 
Bolga Fan – LOVE
Baba Tree
goodeeworld.com
$55.00
This handwoven fan would be great for a summer day. It's made out of ethically-sourced straws and handwoven in Ghana. Not only will it make a fantastic accent piece for your home, but the message will also brighten your day. 
Bubble Vase in Wildbird Rosa and Verde
Verona-based porcelain maker Ancap reworked classic patterns and motifs with contrasting color combinations to bring a modern twist to a traditional porcelain vase. Such a cool piece to showcase around your space!
Sunset Fiesta Lumbar Pillow
I'm in love with this handcrafted pillow embroidered and woven in India. It'll add brightness to any seating area. Loloi works together with GoodWeave, a nonprofit company that ensures all of their factories follow and provide fair labor practices for their artisans. 
Purple Yellow Ankara Fabric Napkins
reflektiondesign.com
$10.00
I love adding a fun patterned napkin when setting my table. I find it's a perfect conversation starter with my guests! These purple and yellow napkins are printed with a pattern native to Ghana. 
Limited Edition Royal Blue and White Spotted Pleated Silk Lampshade with Pink Trim 12″
pennymorrison.com
£200.00
This pleated lampshade by Penny Morrison will bring a little English Country charm to any home. 
Micro Candlestick in Cobalt with White
I love this handmade candlestick from Portugal. The spatters offer a modern twist on a traditional candlestick holder silhouette. I'd also use it as a little bud vase.  
Taya Storage Basket – XL
expeditionsubsahara.com
$185.00
These handmade baskets from sweetgrass use a traditional coil-style weaving technique from Senegal and can take 40 hours to craft. They also use recycled materials to color the baskets. Perfect for any kind of storage, the colors of these baskets will lift the mood in any space!
Murrine Glass Tumblers – Set of 4
Formentello
modaoperandi.com
$250.00
I love the bold drama of these glasses, which are handcrafted with a murrine technique. Second-generation Venetian glassware label Formentello specializes in this ancient process that creates colorful patterns in a glass cane revealed when cut in cross-sections.
Handmade Deep Red Boucherouite Rug
I love the richness of the color palette. Handcrafted by Berber women in Morocco utilizing a carpet weaving technique passed down from generations, this rug has "imperfections" are what gives it character. Boucherouite rugs are eco-friendly, too: They're crafted with discarded clothes and textiles. 
This content is created and maintained by a third party, and imported onto this page to help users provide their email addresses. You may be able to find more information about this and similar content at piano.io