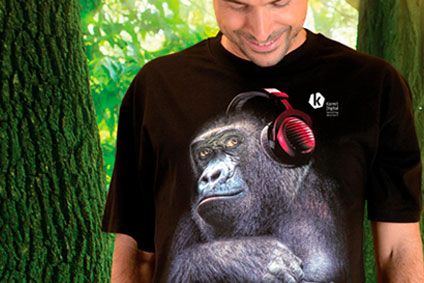 Future of fashion will be smarter, more agile and personal | Apparel Industry News
Asos has recently partnered with UK manufacturer Fashion Enter to implement an on-demand textiles manufacturing project
Asos has recently partnered with UK manufacturer Fashion Enter to implement an on-demand textiles manufacturing project using Kornit Digital printing technology
The future of apparel production will be smarter, more agile, and more personal with more product made closer to home, according to a group of experts speaking at the Association of Suppliers to the British Clothing Industry (ASBCI) 'Survival of the Smartest' digital conference.
The Covid-19 pandemic has accelerated the shift to digital, particularly as it has limited the ability to travel to factories and handle physical samples for many brands and retailers.
Marcella Wartenbergh, the CEO of AWWG (All We Wear Group), explained digital transformation across the entire supply chain is essential, maximising efficiency, speed to market, and the customer experience while delivering sustainability benefits including reducing waste and shrinking carbon footprints.
With sustainability becoming more important to consumers, on-demand options are also set to become more popular as brands and retailers seek out more responsive, responsible production.
Online fashion retailer Asos has recently partnered with UK manufacturer Fashion-Enter Ltd to implement an on-demand textiles manufacturing project using Kornit Digital printing technology. 
CEO of Fashion-Enter, Jenny Holloway, explained the process of "one-piece flow" items is difficult for people to understand when they are used to mass-producing standard items but there will be a time when more of these distributed-manufacturing relationships are formed between retailers and factories.
"Retailers shouldn't need fulfilment centres all over the country. Everything is changing. Anything new is scary, but we have to embrace change and make it work."
Ed Gribbin, CEO of Gribbin Strategic, added customisation and made-on-demand technologies will continue to gain strength as brands look to respond to ever-evolving fashion trends.
"The idea that we can decide two years out what people will buy is crazy. The old model of sell what you can, mark down the rest, and get rid of the balance is doomed to fail and Covid has accelerated this."
The "realignment", he added, will require supply chain smartification.
"Control, visibility, and traceability will be key, as well as manufacturing as close to the consumer as possible. Smarter design, planning, manufacturing, logistics, and fulfilment, and computing power will help us get there. But while tech is exponential, humans are linear. Humans have to harness technology and our ideas may not move at the same pace as tech capabilities."
Direct-to-consumer models will also become more favourable, as will subscription models.
Frazer Mead, head of sourcing, fashion, for The Very Group explained that a challenging sourcing environment has been compounded by the rising expectations of online shoppers as retailers seek to bridge the gulf between the in-store experience and the choice and convenience of online.
"The challenges for online retailers are amplified by a rapidly shifting digital landscape, with trends in ad channels, social media, shopping platforms, and influencers constantly changing."
He cited the rise of subscription services as a growing trend, particularly in D2C models, and highlighted digital shopping trends that have not reached the UK yet.
"It is time to be bold," he said, but cautioned about getting carried away with every new technology that comes along.
"Choose carefully. Ignore the hype. Focus on the basics and ensure you connect all links in the chain."
While David Flavell, head of in-bound supply chain at Asos, added the turbulence of the freight market will further fuel a shift to D2C.
"Most carriers pulled capacity at the start of the pandemic; some ripped up contracts. And the problems were exacerbated by the Suez situation."
The impact, he said, will be digitalisation of the inbound supply chain.
"It is apparent now that visibility and control are essential. The big change will be digital transition and decision making upstream. As to the future of the supply chain? Ultimately, businesses need to change. I do see a point where the sector starts to move away from too much infrastructure to direct-to-consumer models. No one wants to start putting infrastructure down."