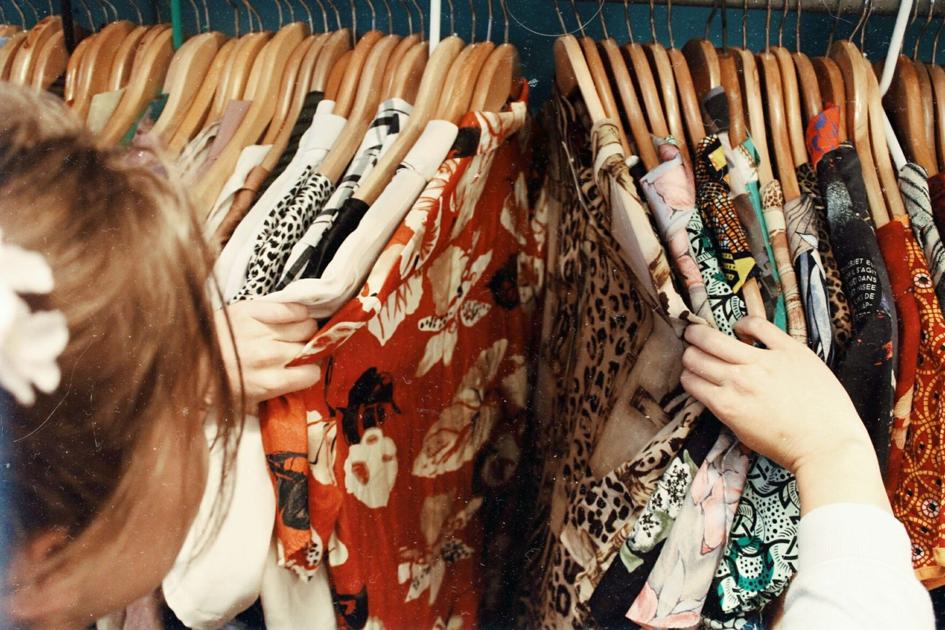 Fashion forecast: five trends to watch in spring 2021 | Culture
As the weather starts to get warmer, Harrisonburg comes to life. Whether Dukes are going
As the weather starts to get warmer, Harrisonburg comes to life. Whether Dukes are going out, having a picnic on the Quad or just need some new pieces for their wardrobes, springtime brings new beginnings. In many ways, spring is the season of rebirth, including the closet. 
With the Internet at one's disposal, it's easier than ever to see potential trends before they hit the mainstream. This season has the opportunity to bring completely new pieces, as well as give nods to decades past. 
Stone rings
This past year has brought many trends surrounding jewelry, and there's no sign of them stopping any time soon. A step up from the classic gold and silver tones, stone jewelry is likely to be everywhere in a couple of months. 
Thanks to the increasing popularity of crystals for various uses, stone jewelry has come into the spotlight to connect the wearer to nature and healing. 
The pieces are often made using flexible wire, and the stones can range from small to large, or from pink to black. The often muted colors allow for a statement and a pop of color that complements one's outfit instead of making the ring the star. 
Stone rings are popular because of their versatility—they act as a nice touch of color and vitality without being overpowering. Pieces can be paired with many different outfits because of the simplicity of matching the color of the stone. One can wear a green stone ring to go with green pants, or they can wear a neutral stone to go with any outfit they please. 
Where to Buy:
Sweat shorts
Just because the weather is warmer doesn't mean people have to put away their sweatpants for the season. As a fairly new addition to the loungewear family, sweat shorts are the perfect compromise for when it's warm outside but one still wants to be comfortable. With plenty of colors, lengths and styles to choose from, sweat shorts are a perfect piece to add to anyone's closet this season. 
The main idea of sweat shorts is function over fashion, but they can be worn with a pair of cool sneakers for an effortless, trendy look. These shorts are free game to be worn with anything, considering the comfort factor. 
Where to Buy:
Hawaiian shirts
Hawaiian shirts have proven to be a timeless staple in a summertime wardrobe, but there's potential for them to be even bigger this year. Originally popularized by the 1980s' hit crime drama "Magnum, P.I.," Hawaiian shirts have had a decades-long impact on American trends and are synonymous with summertime. Their bright colors, bold patterns and lightweight, airy feel are attractive to wearers and have taken them from tacky to trendy in recent years.
Although Hawaiian shirts will continue to be popular at beaches, pools and cookouts, they can also easily be worn on a regular day out and about. Utilizing the button-down style and pairing it with jeans or shorts can transform it from "tacky tourist" to a statement summertime look. As far as accessories go, keep it simple so the shirt ties the rest of the look together. 
Where to Buy:
'70s-style prints
In recent years, many emerging trends have been callbacks to the '80s and '90s. This year, however, the timeline is moving even further back to the age of women's liberation and environmental conservation. 
The 1970s were a bold time for fashion, with psychedelic prints seen everywhere. With the ongoing trend of statement pieces, people have been getting more adventurous with the prints they wear. The florals and bright patterns of the '70s can already be seen on modern fashion pieces, such as A-line skirts and bucket hats.
Because the patterns tend to be loud and busy, one should utilize the pattern as a statement piece, making the other aspects of the outfit simple and solid. For the experienced stylist, pattern mixing could bring the look from basic to bold. To become fully immersed in 1970s fashion, one can also pair a bold print with platform shoes or boots. 
Where to Buy:
Rectangular sunglasses
Although sunglasses are a staple accessory that nearly everyone owns, they're constantly evolving in shape, style and color. Different sunglasses work for different face shapes, but rectangular glasses seem to be a style anybody can rock. A combination of thick rims and a sleek design makes this style look more elegant and fashionable than the classic aviators. 
As soon as spring hits, it's important to wear sunglasses to protect one's eyes from UV rays. The reason rectangular sunglasses are so popular is because they can essentially be worn with anything. Whether they're black or the trendy tortoise shell pattern, these sunglasses perfectly balance fashion and function. There are also colored varieties to wear as a matching statement. 
Where to Buy:
No matter what kind of style one may be rocking this season, the picks on this list can be built upon to match anyone's personal taste to ensure the warm days ahead bring comfort and confidence. 
Contact Maeve Summers at [email protected] For more on the culture, arts and lifestyle of the JMU and Harrisonburg communities, follow the culture desk on Twitter and Instagram @Breeze_Culture.