Photo by Scott Gries/ImageDirect, Ron Galella/Ron Galella Collection via Getty Images and Sylvain Gaboury/FilmMagic
Christina Aguilera is simply The Voice of Y2K pop. Known for her powerful belt as much as her signature melismas, the American singer-songwriter possesses one of modern pop music's most singular and most instantly-recognizable voices. Since her debut in 1998, with Mulan soundtrack single "Reflection", Christina has gifted the Millennial generation with some of its most beloved, most iconic songs. Think eternal bop "Genie in a Bottle," cultural reset banger "Dirrty" and the anthemic "Beautiful." Sartorially, Christina is also the purveyor of some of Y2K's most memorable looks, from "Come on Over's" crop tops and bedazzled body art to Stripped's micro miniskirts and chaps. Beyond the aughts, Christina's musical stylings, pioneering artistry, and personal style continue to influence today's pop stars, from Miley Cyrus to Dua Lipa. Here, to celebrate the 22nd anniversary of Christina's self-titled debut album, we take a look back at some of her most iconic outfits.
"Genie in a Bottle" music video, 1999
After making her debut with Mulan soundtrack single "Reflection", former Disney Mouseketeer Christina Aguilera burst onto the teen pop scene with "Genie in a Bottle" in June 1999. The single shot to the top of the Billboard Hot 100, becoming the year's song of the summer. Into Y2K and beyond, "Genie in a Bottle" came to shape the sound of turn-of-the-millennium pop music and remains one of the era's most recognizable bops. And it's music video is equally iconic. Filmed in Malibu, California, the clip features Christina and friends rolling in the sand, cruising in convertibles and enjoying a beachside bonfire. During the video's requisite dance break, Christina sports the clip's most memorable look: a pair of orange cargo pants and a mesmerizing beaded top that swings and sways along with the choreography.
"Come On Over Baby" music video, 2000
Xtina followed the smash success of "Genie in a Bottle" with two more #1 singles, released with the launch of her debut, self-titled album. The first was "What a Girl Wants" and the second, "Come On Over Baby". The latter single's music clip drew upon the era's monochromatic, space age video aesthetics, and spawned a number of iconic early-career Christina looks. The most memorable, however, is the video's all-white look featuring a bedazzled halter, lace-up pants, bejeweled body art and bright fuschia hair extensions.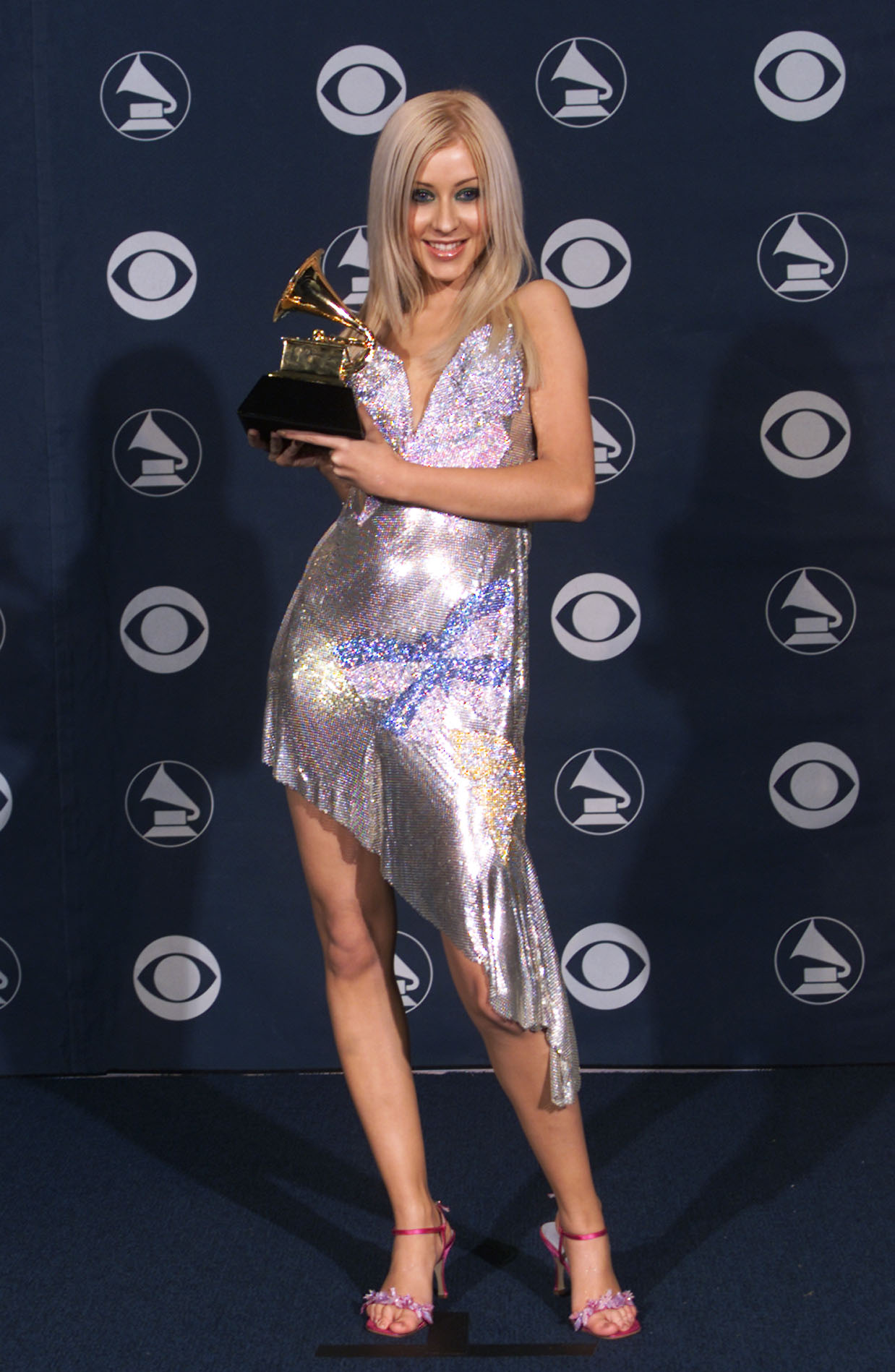 Photo by Scott Gries/ImageDirect
At the Grammy Awards, 2000
After its 1999 release, Christina's eponymous debut album — the one that spawned era-defining anthems "Come on Over Baby" and "What a Girl Wants" — went eight times platinum. And it was met with as much critical as commercial success. The year following its release, Christina was awarded the Grammy for Best New Artist. To scoop the award, the chanteuse wore a silver chainmail number from Versace's Spring 1999 collection. Known now as "the butterfly dress", the look has become so iconic that Dua Lipa paid it homage at the 63rd Grammy Awards over 20 years later.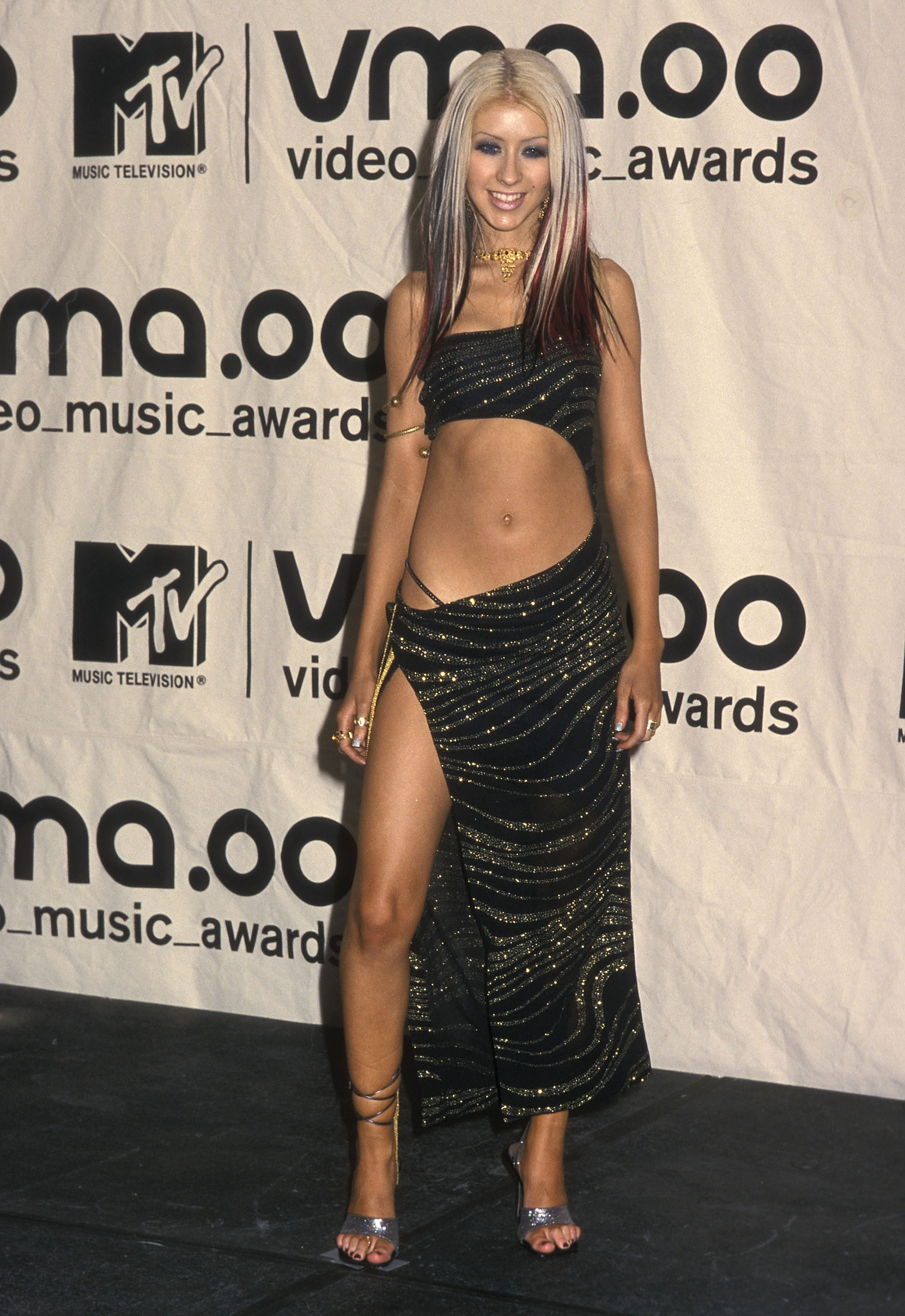 Photo by Ron Galella/Ron Galella Collection via Getty Images
At the MTV VMAs, 2000
Since its inception, the VMAs has been host to some of the music industry's most outrageous (and most iconic) red carpet looks. And the millennium edition of the awards show was no exception. At the 2000 Video Music Awards, we had J.Lo and Puff Daddy wearing Sean Jean, Aaliyah in a fur-trimmed zebra print gown and Destiny's Child sporting bedazzled leather looks. Xtina's look was equally glam (and equally bedazzled): a glittered cut-out gown with a very Y2K exposed thong detail. That night, Christina presented an award alongside Britney Spears, in what is the pop music rivals' second most iconic VMAs encounter.
"Lady Marmalade" music video, 2001
Did you know that Christina's record label was initially opposed to her involvement in 2000's cover of "Lady Marmalade"? A collaboration between five of the era's powerhouse performers (Lil' Kim, Mýa, Pink, Missy Elliott and Christina, herself), the Moulin Rouge! single topped the charts on airplay alone and became one of the year's most memorable songs. Of course the legendary collab received an equally iconic music video treatment. Set in a Moulin Rouge-inspired cabaret, the clip features the four artists in full burlesque hair, makeup and garb. Christina wears a spangled satin corset with matching crimson gloves and eyeshadow, and her hair in a crimped, pastel-streaked mane.
"Dirrty" music video, 2002
Can you say "cultural reset"? In 2002, Christina returned to the charts with her sophomore album Stripped and its lead single "Dirrty". While the single only peaked at #42 on the Billboard Hot 100, "Dirrty's" video has gone down in history as one of the most pivotal, controversial and memorable music clips of all time. In the David LaChapelle-directed video, Christina boxes, dances and rides a motorcycle through an underground club, all while wearing a series of bikini tops, micro-minis and those leather chaps. With "Dirrty" and the clip's iconic outfits, Christina not only shed her chaste, bubblegum persona, but completely redefined the image of the 21st century pop star.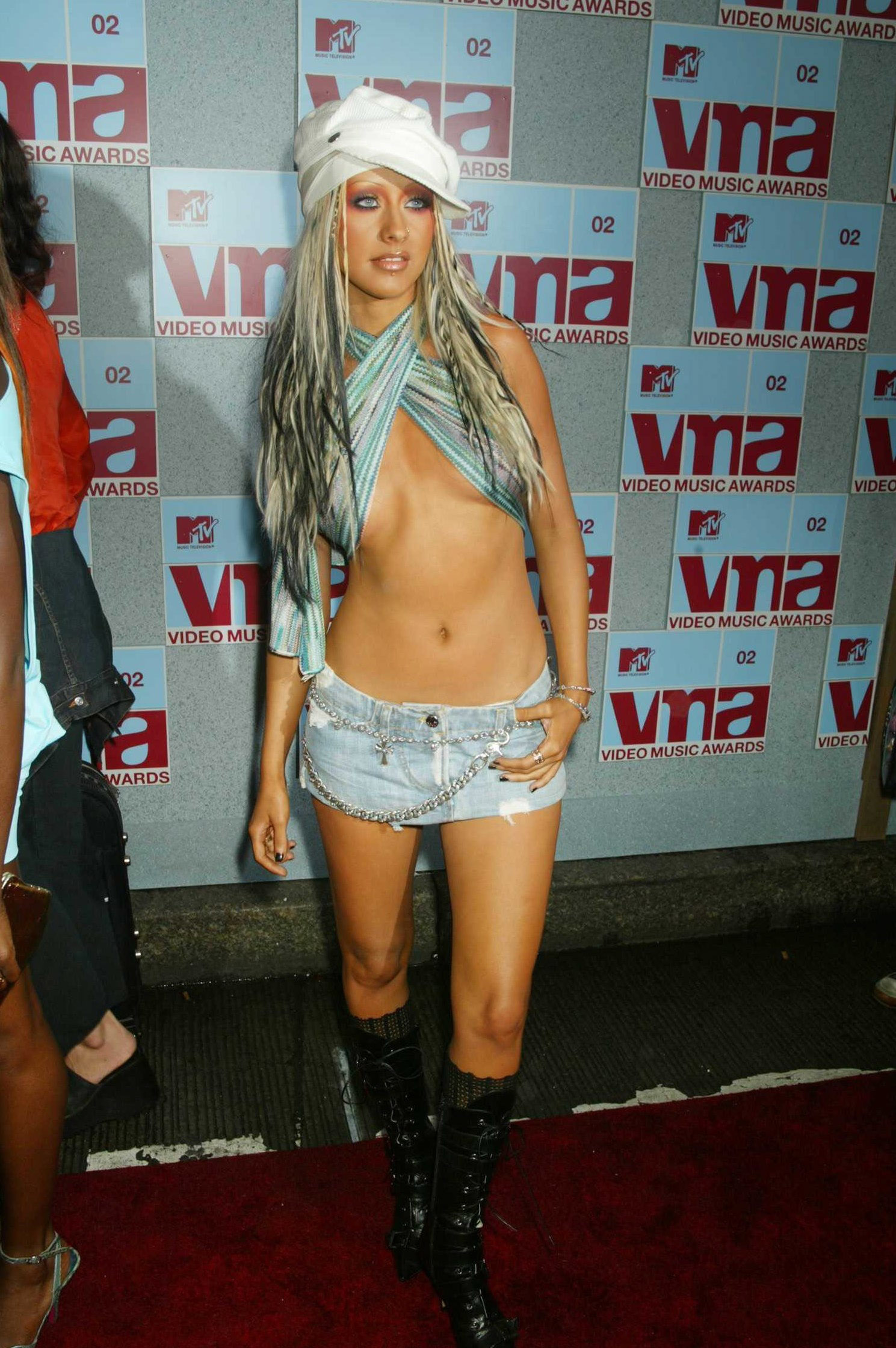 Photo by Sylvain Gaboury/FilmMagic
At the MTV VMAs, 2002
If "Dirrty" told us anything, it's that Christina's Stripped era style was all about the low-rise and micro miniskirt. Beyond the iconic music video, however, Christina's sophomore album era was an eclectic amalgam of some of Y2K's most Y2K trends. Think red carpet hats (fedoras and newsboys, specifically), pointed toe boots (usually worn with cropped trousers), biker-inflected looks of the Ed Hardy variety, and, of course, an enviable collection of 'going out' tops. Here, nowhere else than the 2002 MTV VMAs, Christina wears arguably her most iconic Stripped-era red carpet look: scarf top, pointy lace-ups, newsie cap and tiny denim mini. A perfectly "Dirrty" outfit, fit for the queen of the sexy pop star rebrand.