Image credits (L-R): Frank Micelotta/Getty Images; Jo Hale/Getty Images; Jo Hale/Getty Images.
The first time we met Avril Lavigne, she was 17 years old and encouraging us to go crash the mall in the music video for her debut single "Complicated". The soon-to-be pop-punk legend and her band also stole from mall cops, dressed up in stupid clothes and took mini SUVs for a joyride. The year was 2002 and Avril, her emo accessories and radical attitude were about to kick down the patriarchal walls of the music industry. Here are some of the best outfits she did it in.
Photo by Frank Micelotta / Getty Images
Making her debut at the MTV VMAs, 2002
This look is classic Avril. Just two months after releasing her debut album Let Go in June 2002 — one of the greatest albums of all time — she rocked up to New York's Radio City Music Hall in something not dissimilar to what she wore in the video for "Complicated": a loosened tie over a white tank top. Here, she pairs the combo with low-slung camo trousers, skate shoes and arms stacked with studded bracelets, layered up with sweatbands and those plastic, um, "shag bands" that were allegedly banned from a school in Florida for their inappropriate sexual connotations. Feeling extra patriotic, or perhaps for luck, Avril pinned a Canadian flag to her tie for the MTV award ceremony, at which she was nominated for Best New Artist in a Video — beating Ashanti and John Mayer.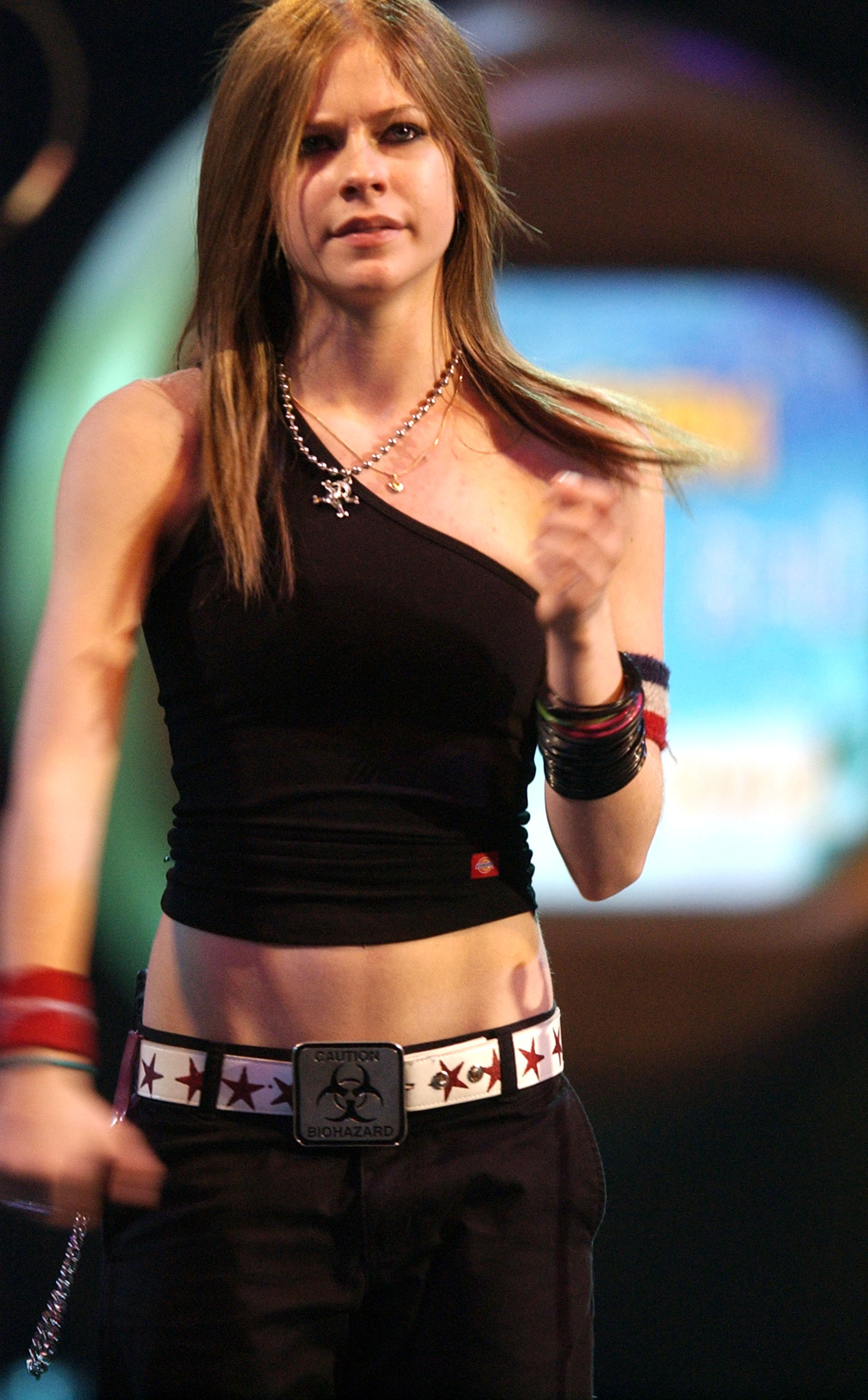 Photo by SGranitz/WireImage
Performing at the Jingle Ball, 2002
Each December, LA's KIIS FM hosts a festive concert boasting a line-up of the year's hottest acts. In 2002, that list included Avril Lavigne, Destiny's Child, Mariah Carey and Justin Timberlake. Imagine! Deciding that one of her usual graphic tees wouldn't cut it for this event, Avril instead wore an asymmetric black Dickies crop top with a pair of black trousers held up by a thick, white leather belt covered in red stars. Aside from the skull and crossbones chain necklace, the belt buckle is the real highlight of the outfit: a square bearing the inscription "CAUTION: BIOHAZARD". The edgiest accessory at the Christmas party.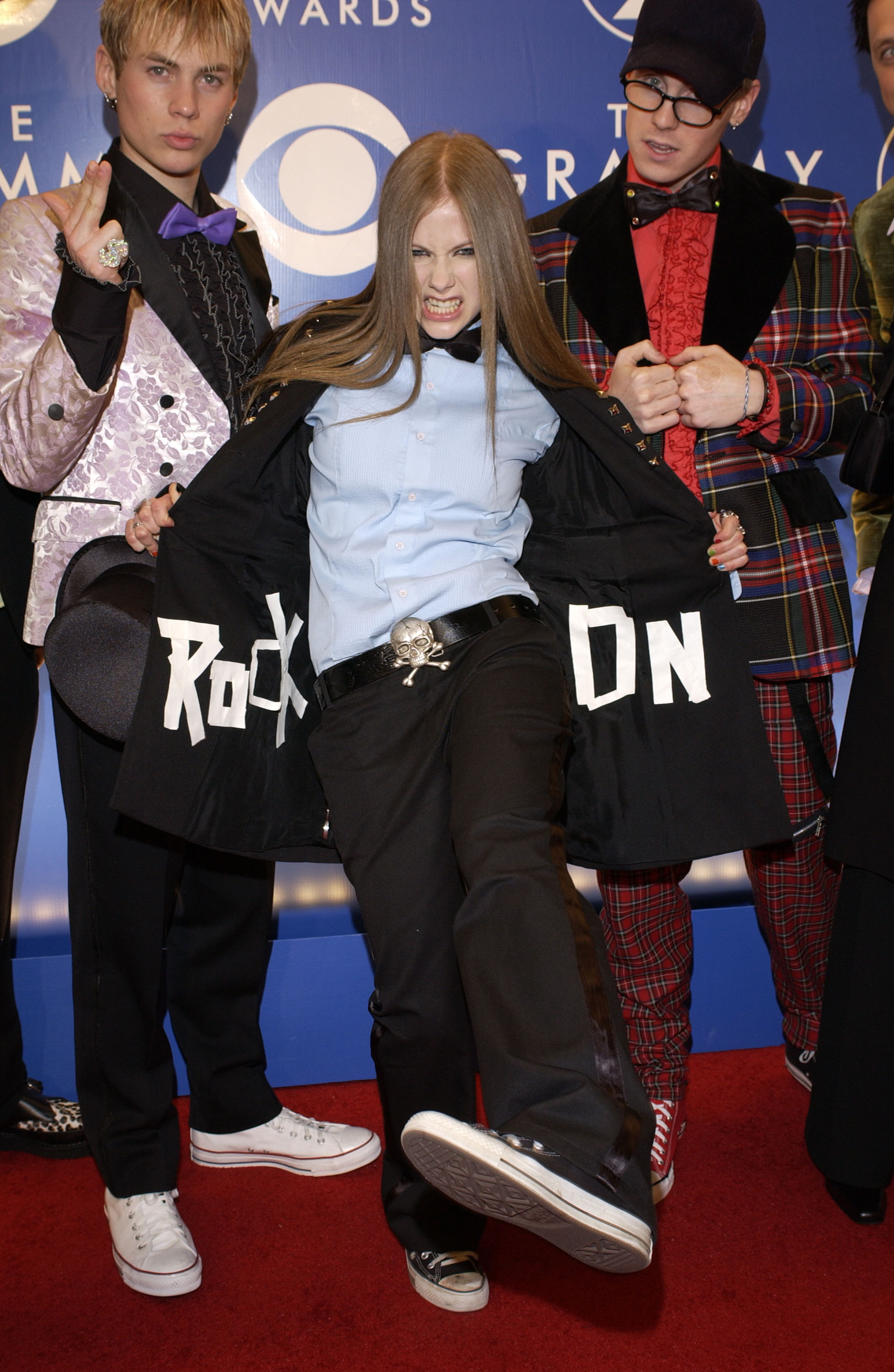 Photo by Lester Cohen / WireImage
Making a statement at the Grammy Awards, 2003
Nominated for several Grammys (Song of the Year and Best Female Pop Vocal Performance for "I'm With You", Best Female Rock Vocal Performance for "Losing Grip"), and performing her hit single "Sk8er Boi"; all eyes at Madison Square Garden were on 19-year-old Avril. Naturally, she wanted to use the opportunity to make some kind of statement. Arriving with her bandmates in formal attire, Avril later opened the jacket to photographers, revealing the words "ROCK ON" in duct tape. Punctuated with a skull and crossbones belt and topped off with understated black Converse and rainbow nail polish, Avril took a dress code and made it very much her own. (Pop-)punk as hell.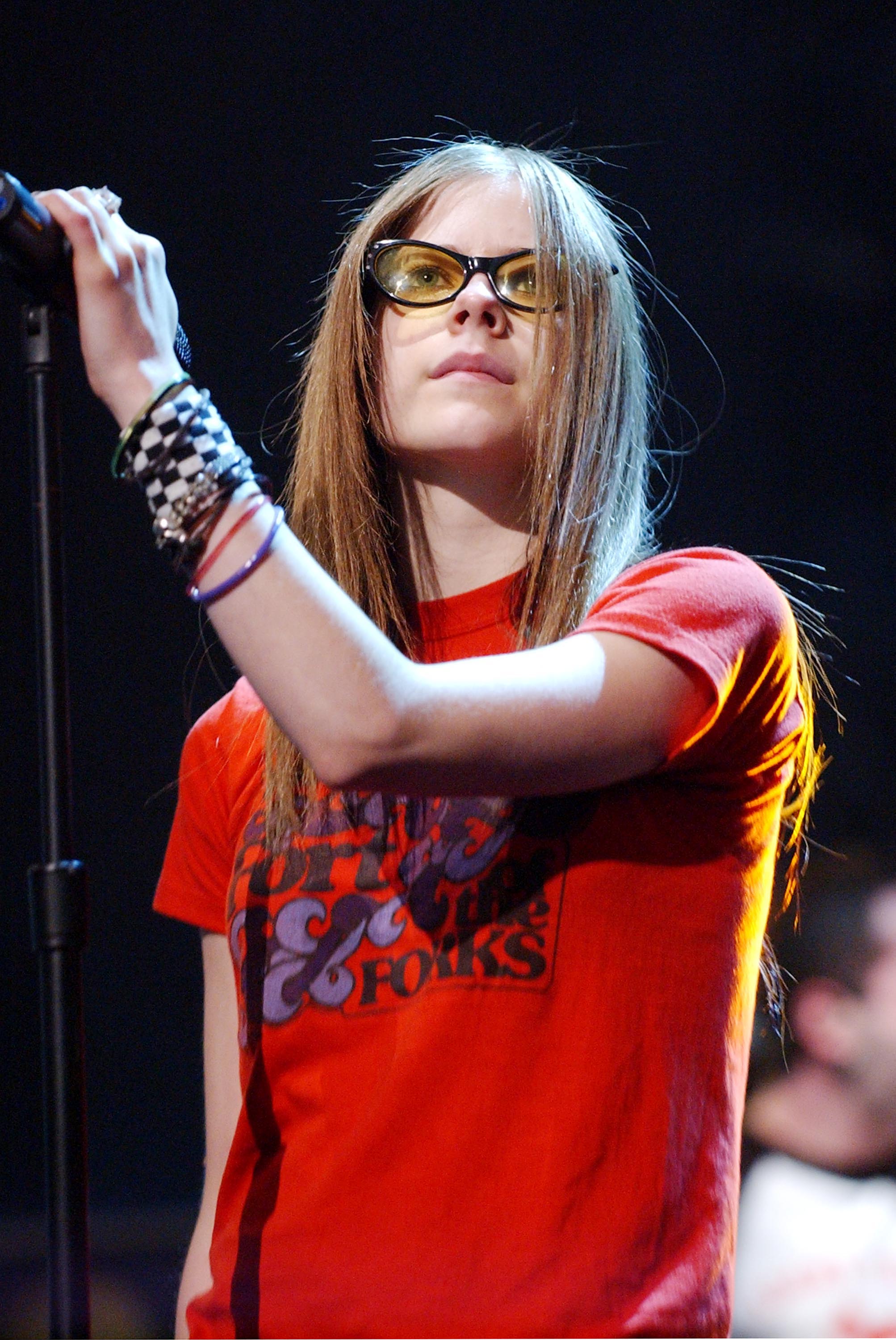 Photo by Jeff Kravitz / FilmMagic Inc.
Soundcheck at the MTV Icon Metallica show, 2003
In the early 00s, MTV launched a series of television specials, each celebrating a legendary act. Popular musicians at the time would be called on to perform cover versions of an icon's greatest hits and, you guessed it, Avril was one of those summoned. Performing alongside Korn, Limp Bizkit, Sum 41 and bizarrely, Snoop Dogg, Avril was patronisingly introduced as "a small woman who rocks big" before launching into a brilliant rendition of Metallica's "Fuel". Before she changed into a black tank top with "Metallica" spelled out in rhinestones, Avril served a killer look for soundcheck — chain-laden baggy blue jeans, checkerboard Vans, a vintage T-shirt promoting a Canadian town and (truly the best bit) those yellow-tinted 50s cat eye glasses. One for the moodboard.
Photo by Jo Hale / Getty Images
Waiting backstage before a gig, 2004 
Guess where Avril Lavigne is here. You literally never will. Avril — she of the "best-selling album of the 21st Century by a Canadian artist" — is sitting in the backroom of a pub in Camden, north London. Teasing her soon-to-be-released second album Under My Skin, somebody on Avril's team thought it'd be fitting to have her play a secret fan club gig in the neighbourhood that birthed punk thirty-odd years earlier. The Camden Monarch (apparently then a favourite of Babyshambles and Razorlight) wouldn't see this much fun again until 2008, when Amy Winehouse played its re-opening party with a DJ set. Avril wore an understated look for the occasion, nodding to her punk roots with zip features on the trousers and embracing her inner emo with a pair of striped pink and black socks. The Docs, too, are very Camden, echoing her newly-dyed two-tone scene girl hairstyle.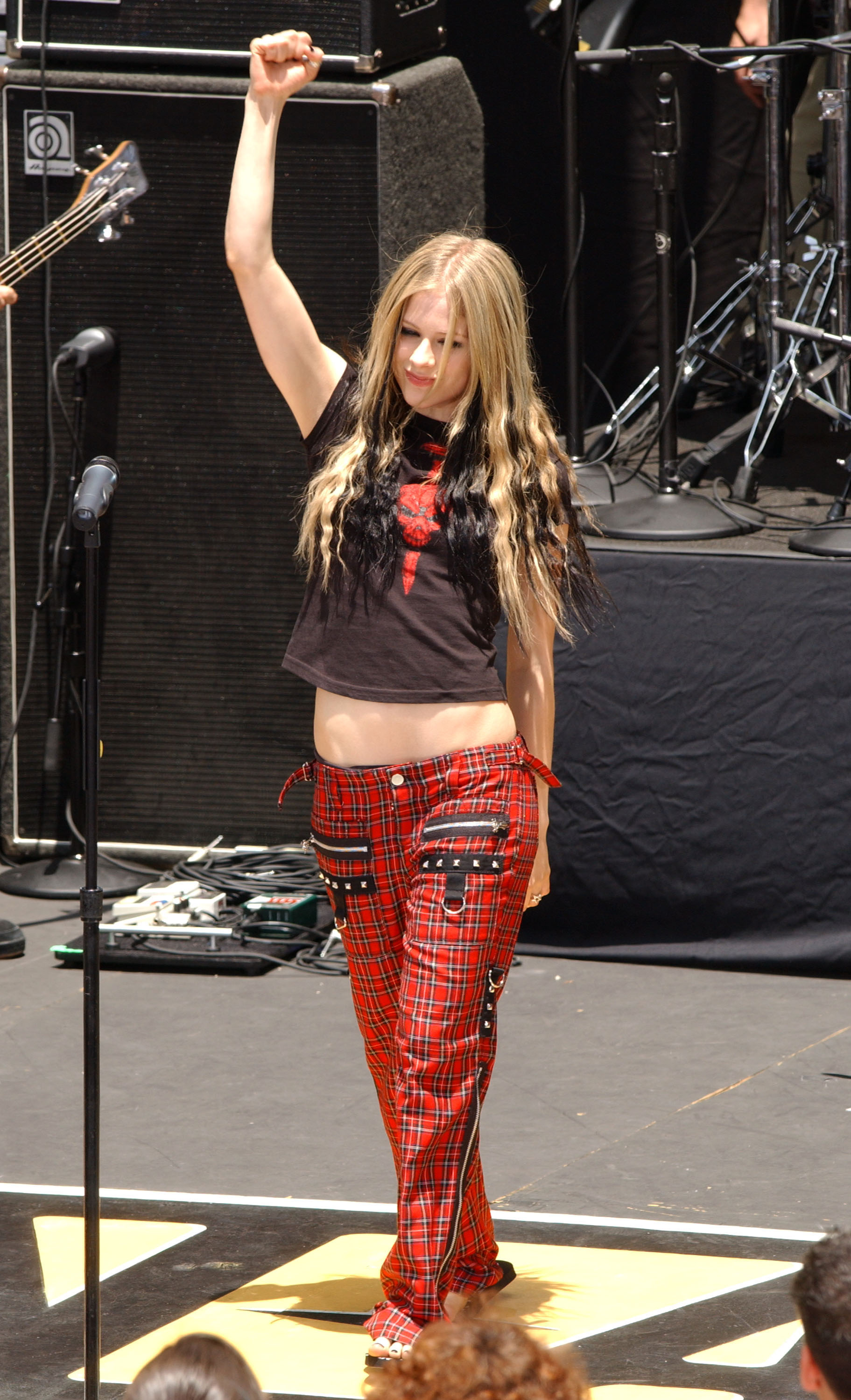 Photo by SGranitz / WireImage
Performing live for On Air with Ryan Seacrest, 2004
How low can you go? In the case of Avril Lavigne's studded, zip-heavy tartan trousers… pretty fucking low. Paired with a strong smokey eye, a babydoll fit tee emblazoned with a skull, and (we guess it was hot?) a pair of flip flops, Avril raises her fist as she walks on stage to perform live during On Air with Ryan Seacrest. Based on the amount of blonde here, it looks like she might've got some hair extensions and given them a good old-fashioned early 00s crimp.
Photo by Arnaldo Magnani / Getty Images
On a date with Sum 41's Deryck Whibley in Central Park, 2004
Here we join Avril and new boyfriend — Sum 41 frontman and fellow Canadian Deryck Whibley — for a walk through NYC's Central Park, on which she wore a studded, zipped and safety-pinned Hot Topic look with Doc Martens and a long, striped scarf. Full emo mode had been activated. The duo had met two years earlier ("I made out with him the first day I met him," Avril told Rolling Stone) but didn't make it official until 2004. A couple of years later, the musicians got married in a traditional ceremony before divorcing after four years. After a brief time dating Brody Jenner (yes, that happened), she married Chad Kroeger from Nickelback, and then a Texan billionaire named Phillip Sarofim. Phew.
In 2021, Avril has reappeared in our lives making TikToks with Tony Hawk and featuring on Willow Smith's new album — and she's still rocking that smokey eye, all-black-everything wardrobe. A real icon.